Course details
Sun - Fri Limited ★ Surprising with Special Prepared Parfait ___ ___ ___ 0 【Celebration Course】 \ 3000 (tax included)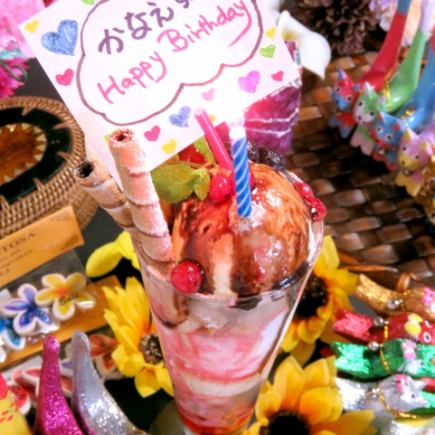 By using a coupon3000 yen
All-you-can-drink available

※ Glass replacement system (We will have the next drink after receiving empty glasses.)
Available days for reservation

Monday - Thursday and Sunday
It is a special plan only for birthdays wearing a special "modern sweet" special sweet ☆ It should surely be pleased with the atmosphere and also ★ girls are even more fashionable for small items in Bali !! * Saturday, Sunday and national holiday not included
Course menu
■ Dip and baguette of pork and herbs
┗ The handmade dip is delicious ♪
■ daily salad
┗ carefully selected fresh vegetables of the day ♪
■ Sato Drop
┗ A special cream cheese sauce with deep-fried sweet ♪ It is a popular menu with a delicious new meal!
■ Pizza with black pepper and mushrooms
┗ One item that smells of black peppers stand out! Without using tomato sauce, ♪ finished as smoothly ♪
■ Tang lifting of rice
┗ Popular & classic dish ♪
■ Chapchai (Balinese style Hachihachi)
┗ Balinese style Hachihachi! Bali feeling with this one item ♪
■ Daily pasta
┗ Daily offer! Example) Peperoncino, tomato sauce pasta etc ...
* Course contents may be changed depending on purchase content.
Please note.
◎ On the day before the reservation to the protagonist of the birthday
A modern bali special parfait and a commemorative photo gift!
Pictures taken are gifts at the time of treasure! "One piece of memories" ...
In addition, girls are cute ~ accessories of Bali gifts!
(Memorial photos and small items gifts of Bali are available only to those who wish to)
★ It brings in customer's cake OK ★
When telling "When watching the net" when making a reservation
It is transmitted smoothly ★
※ We can not make reservations before Saturday · Public Holiday.In addition, please enjoy the banquet course.
※ Course contents change according to the season ★ Please feel free to contact us ★
All-you-can-drink menu
·beer
· Draft beer (super dry) / draft beer small
Shochu
Black Nishiki Isa
Whiskey / highball
Whiskey / highball
·wine
Wine (red and white)
·Fruit wine
· Ankui sake / plum wine (rock · soda)
·Cocktail
· Shandigafu / Red Eye / Gin tonic / Jin Lime / Vodka lime / Vodka tonic / Vodka lime / Vodka back / Moscow commander / Screwdriver / Bulldog / Cassis soda / Cassis orange / Cassis grapefruit / Campari soda / Campari Orange / Campari grapefruit
·Cocktail
· Fuzzy navel / Pachece oolong / Spumoni / Passoa orange / apple soda / lucid leaf forest / calamilk / strawberry milk / melon milk
·Non-alcoholic
· Orange Juice / Grapefruit Juice / Apple Juice / Oolong Tea / Mango Tea / Jasmine Tea / Ichigo Ore / Blueberry Soda / Green Apple Soda / Ginger Ale / Coke / Ice Coffee
Coupons that can be used with this course
2018/06/15 update